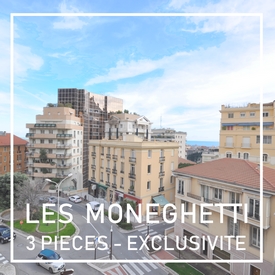 Located on the heights of the City, the area of the Moneghetti is an old district of the Principality. This residential area is getting more and more sought after, thanks to its calm at night and its proximity to the areas of the Condamine and the Port via the public lifts of the city. The Train station is also very close, as well as the Parc Princesse Antoinette, ideal for kids. With its lovely old-style houses, this area also offers several shops, such as the baker, the chemist, florist, grocer, little supermarket… A fresh market also comes several times during the week.
Our apartment is located in a charming 3 story house. This little typical residence has lot of charm. These bourgeois apartments offer high ceilings and nice living areas. This 3-room flat is on the last floor. .
Description of this luxury apartment
The apartment is very luminous. Thanks to large windows, it benefits from lots of natural lights and lovely views on the street. There is also a glimpse of the sea and the Rocher of Monaco Ville. This apartment needs a bit of renovation, especially in terms of modern comfort. A nice corridor leads to all rooms of the apartment.
At the front are the living room and the bedroom, both benefitting from 2 windows each. On the side are the bathroom, the kitchen and the second bedroom. The apartment has no balcony but there is a roof top terrace shared by all resident of the building.
This flat is « under law 1.235/1.291 ». The buyer can freely buy it and live in it. But in the case the buyer would like to rent the apartment, he would have to advise the Direction de l'Habitat, structure of the Government in charge of the attribution of the national apartments and apartments of the "Secteur Protégé" to the Monegasque or enfants du pays. Appliances and rents are regulated. o
More details on the 3 room apartment of the Moneghetti