>
>
Style, Magazine of Sotheby's International Realty France-Monaco

We are glad to announce the new issue of the magazine Style !
This beautiful magazine is realized by our Sotheby's International Realty main office in France and shows articles on prestigious brands and items, luxury lifestyles and of course, the most beautiful properties for sale in the France & Monaco real estate agencies of the Sotheby's International Raelty network.
This magazine will soon be availble in our office. In the meantime, please feel free to see the e-version.
Discover the e-magazine in clicking here.
Monte-Carlo Sotheby's International Realty, your expert in luxury real estate in Monaco
The latest news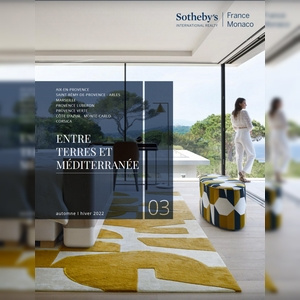 Discover "Entre Terres et Méditerranée"
Born thanks to an association between the luxury real estates agencies of the prestigious Sotheby's International Realty France - Monaco network, this magnificent magazine is available in our offices and at our partners'. Discover the most prestigious properties for...
Read more